The Wapello Jr High Indians and Arrows Track and Field Teams will close out their season tonight when they compete at the SEISC Conference Track Meet at Columbus Community High School. The meet begins at 4:30 this afternoon. Enjoy the warm weather to come cheer on the Jr High Track and Field Teams. #WeAreWapello #WapelloTribePride

The Indians and Arrows Golf Teams will travel to Highland (BlueTop Ridge @ Riverside Casino) for a 4:00 p.m. Triangular with Highland and Lisbon this afternoon. Good Luck to our golfers this afternoon! #WeAreWapello #WapelloTribePride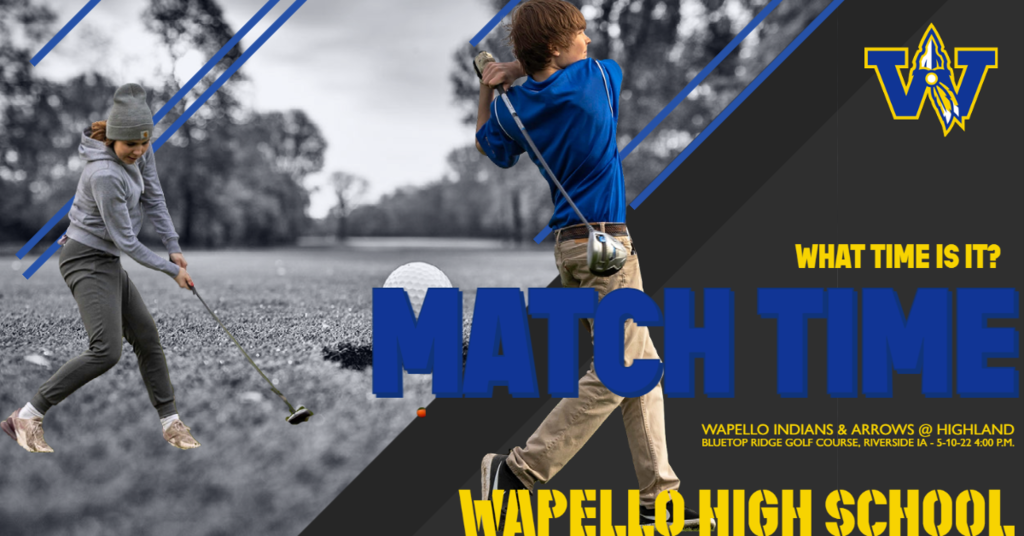 The Wapello Jr/Sr High Daily Announcements for Tuesday, May 10, 2022 have been posted to our website and mobile app. They can be found in the documents folder, or by clicking on this direct link:
https://5il.co/1aala
#WeAreWapello #WapelloTribePride
"You will never experience something like high school again. Even though sometimes it seems stressful and tough, 30 years down the road you'll remember these days as the good days. So enjoy every bit you can!" Words of wisdom from senior, Patricia Hank. Tricia is the daughter of Daniel and Lisa Hank. While in high school, Tricia participated in volleyball, track, soccer, and basketball. Tricia was also a member of the National Honor Society. Attending Southeastern Community College to study surgical nursing are in Tricia's future plans. She also plans to play volleyball in college. Good luck, Tricia!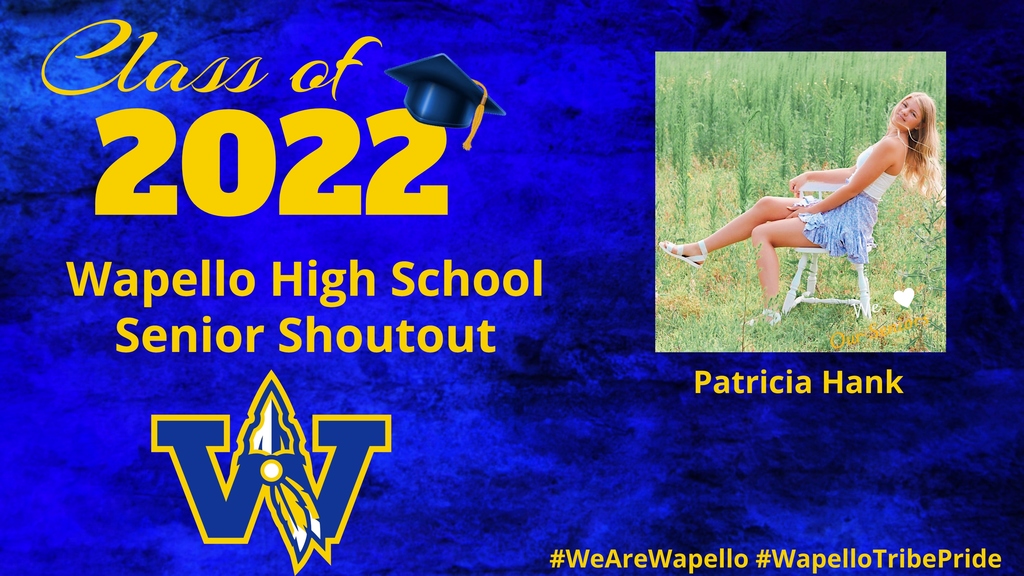 Planning to attend the 2022 IHSAA/IGHSAU District Track meet at Sigourney? You'll need a ticket. Get it here
https://www.iahsaa.org/tickets/
before you attend. Head out on a beautiful Thursday (finally) and cheer our Track athletes on as they attempt to qualify for State.
Hunter is the son of Gabe and Christina Hewitt. Hunter participated in football and track during his time at WHS. Hunter's future plans are to attend Southeastern Community College and to enroll in the carpentry program. He states Mr. Dunham is the teacher who had the biggest impact on him during high school because, "Mr. Dunham and the classes he teaches taught me many valuable skills. Hunter's advice to underclassmen is, "If you are afraid to do something, don't wait until the fear passes. Just do it afraid." We wish you the best, Hunter!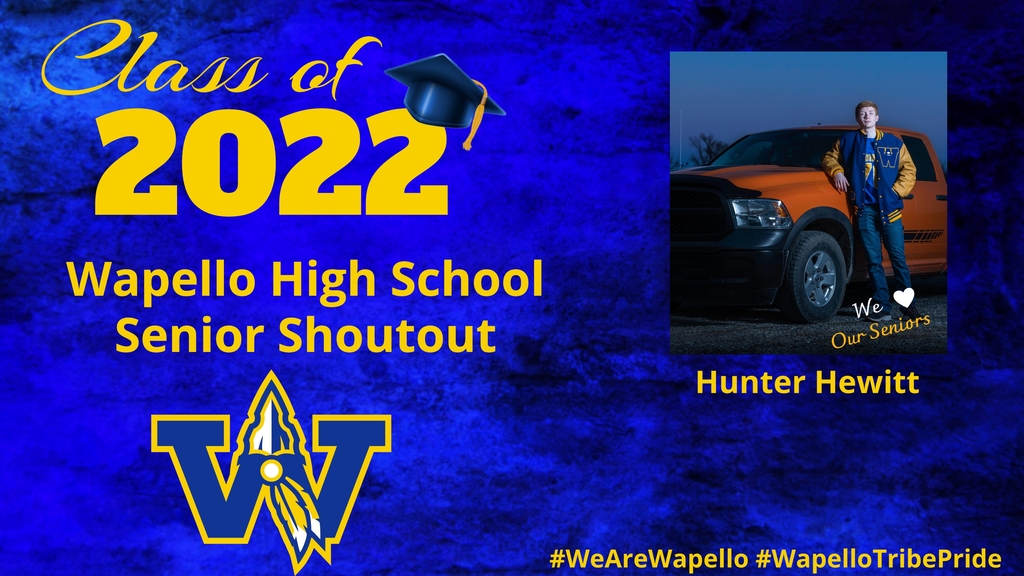 "Stay on top of your classwork." Words of advice from senior Tate Kronfeldt. Tate credits Ms. Eakins, school counselor, as the one who helped him with his homework to make sure he followed his own advice. Tate is the son of Donny Kronfeldt and Kerri Horton. While in high school, Tate participated in football and baseball all four years. Tate plans to attend Southeastern Community College and attend the welding program. Best of luck, Tate!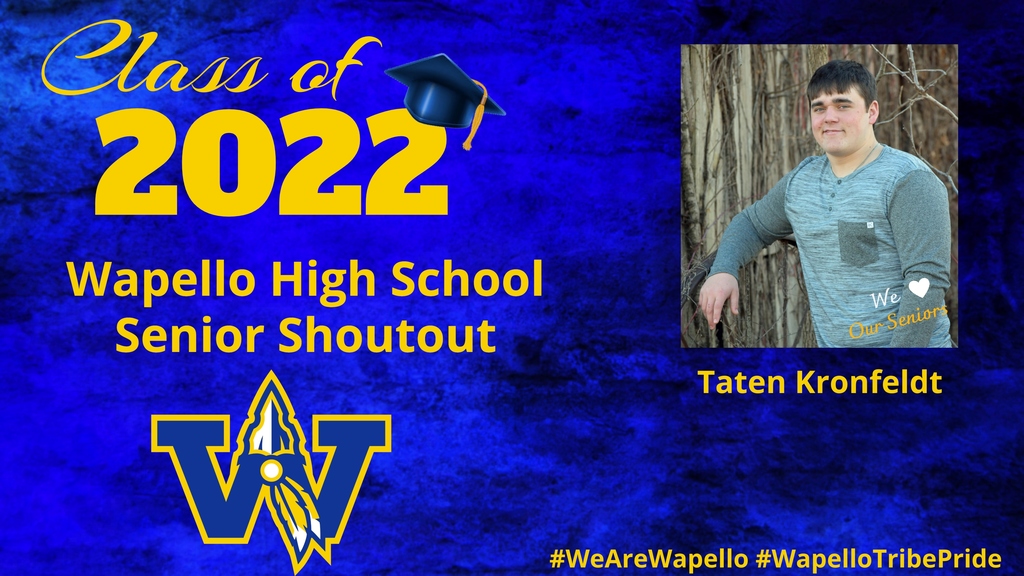 May is School Board Recognition Month, and we are saying "Thank You" to the board members who are Launching Iowa's Next Generation. Please join us in saying thank you to these volunteers who donate their time to lead our public schools. They dedicate countless hours to help students take flight. #WeAreWapello #WapelloTribePride

The girls golf team competed in the SEISC tournament held at Heritage Oaks. Wapello finished 6/11 teams and were led by Bryn Wiley and Liv Fuller who were both honorable mention all conference.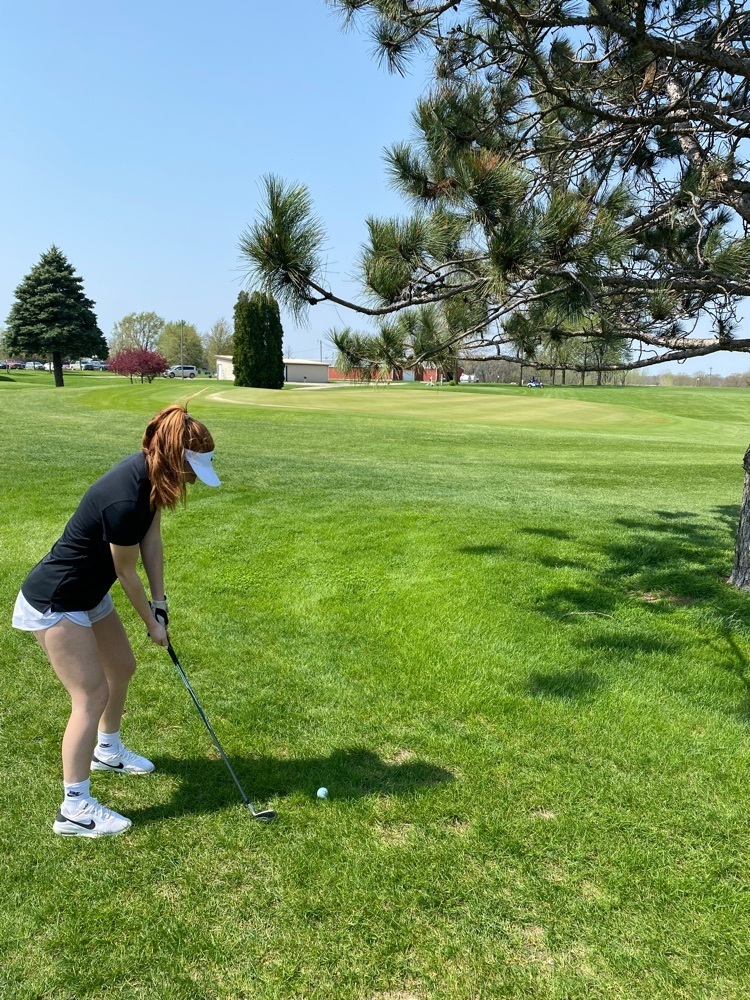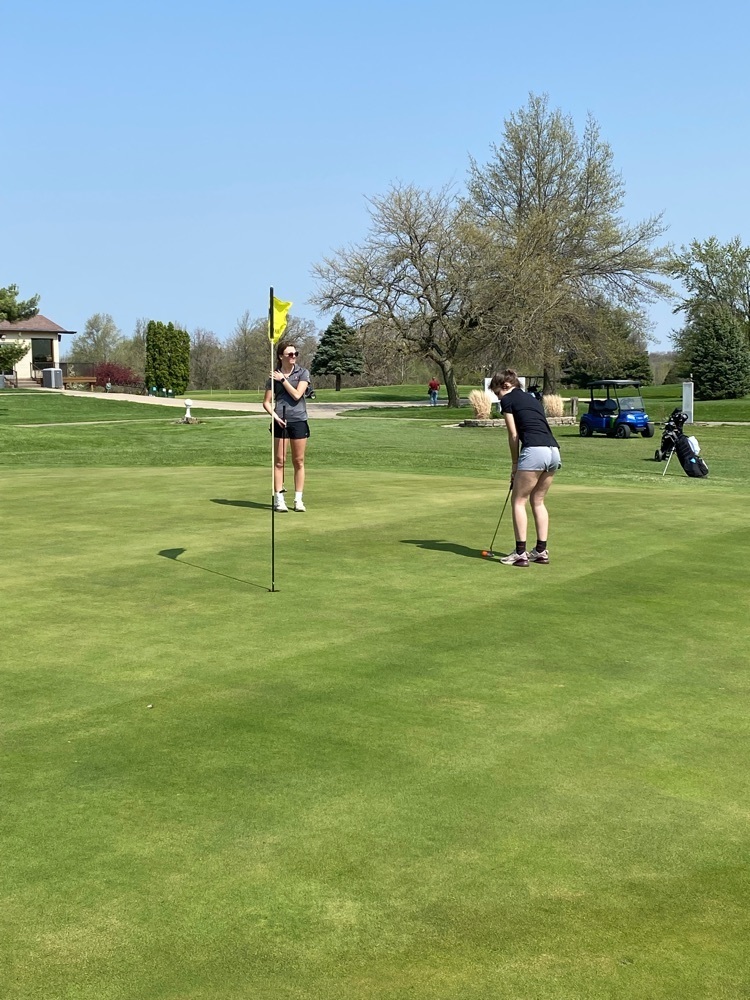 Football, drama, cross-country, band, choir, FCA, soccer, and wrestling have kept Jacob Chamberlin-Johnston busy the last four years at Wapello High School. Jacob is the son of John Richardson and Di'anna Chamberlin-Johnston. Jacob tells underclassmen to "get your English homework done on time." He also credits Ms. Bostian was an impactful staff member in his life because "If it were not for her help, I would not have passed." After high school, Jacob plans to attend Southeastern Community College to complete his two year degree in the welding program.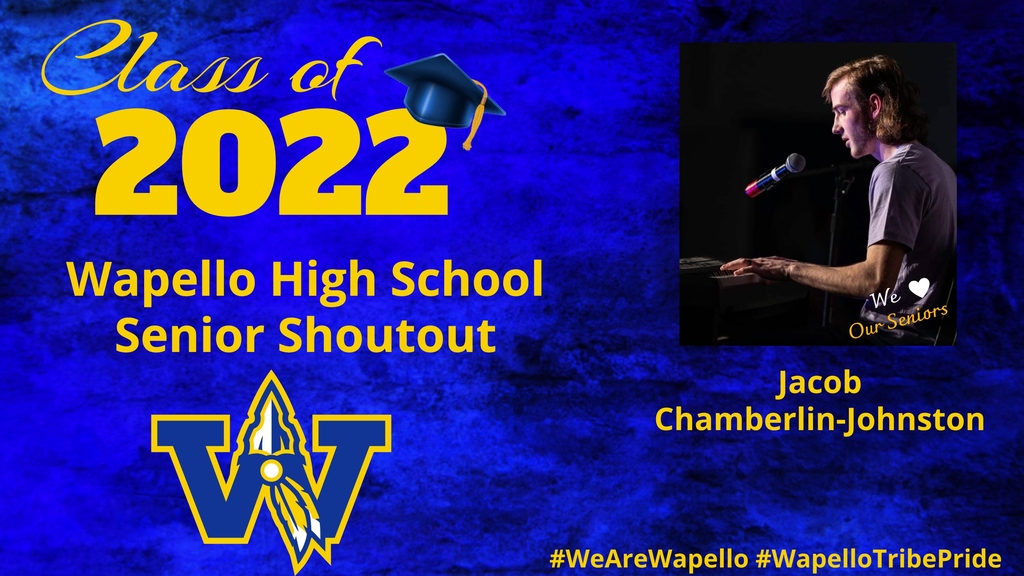 The Indians Soccer team will also be on the road tonight, they will head north for a 6:00 p.m. matchup with Hillcrest Academy near Kalona. Good luck to our Indians, bring home another win! #WeAreWapello #WapelloTribePride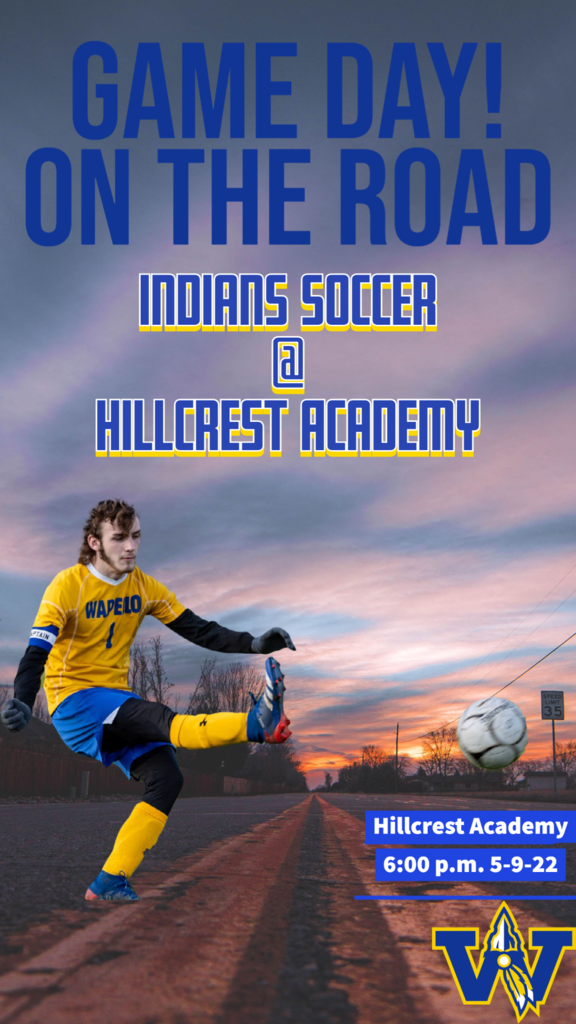 The Wapello Arrows Soccer team will travel south tonight for a 5:00 matchup with the Central Lee Hawks. Good luck to our Arrows, bring home another win tonight! #WeAreWapello #WapelloTribePride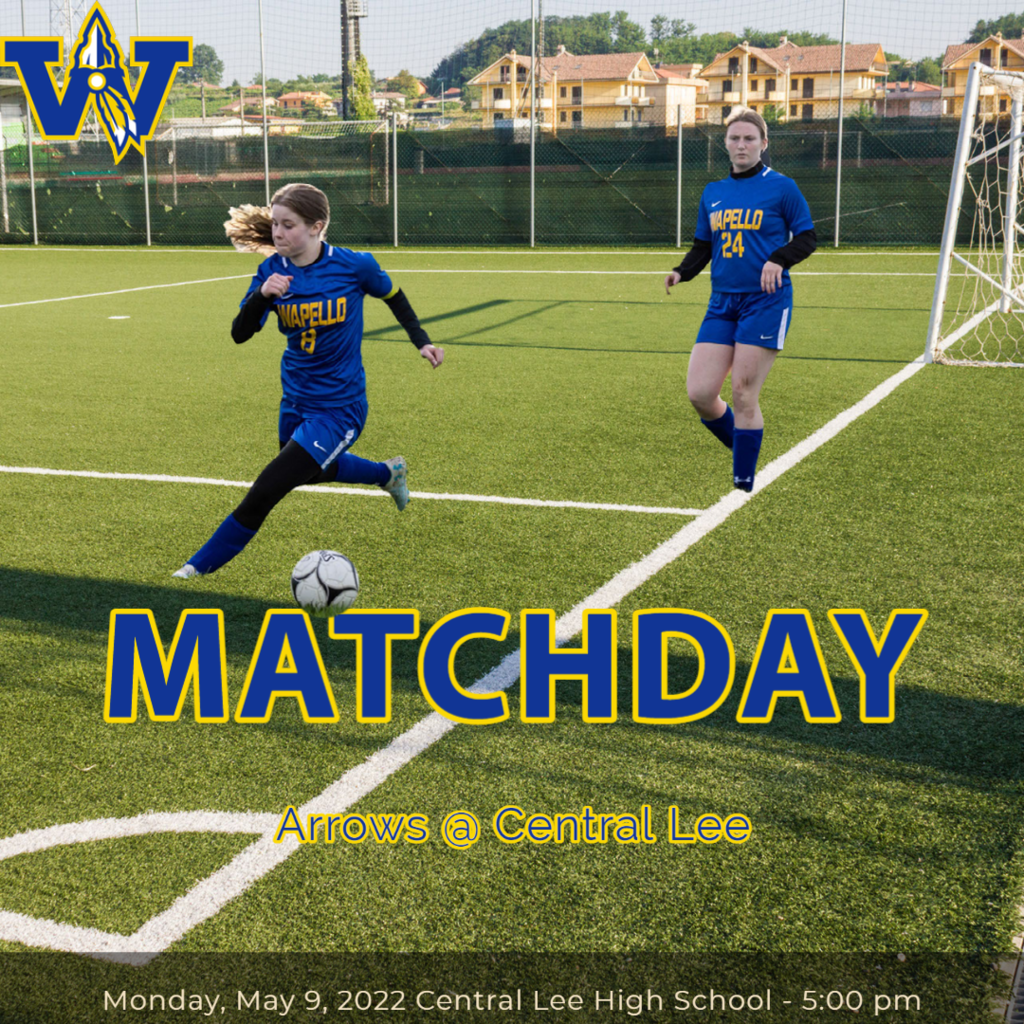 Evelyn Peck is the oldest daughter to Micah and Monique Peck. Evelyn has always been an active member of Wapello High School activities - in the last four years she as been involved in cross country, football cheerleading, wrestling cheerleading, poms, track, band (marching, pep, and jazz), choir (Wapetonics), basketball, drama, FCCLA, soccer, National Honor Society, and student council. Evelyn advises the underclassmen that "Life is too short, especially High School, so make the most of it!!" Evelyn also says that Mrs. Brown has been her most impactful teacher because, "She's always positive and encouraging. She makes me feel not only like a student but like her own child at times. She gives me a feeling of trust and security. If I were to need anything, she'd be there. She also gives me fruit snacks when I do something awesome!!" After high school, Evelyn plans to attend Southeastern Community College to complete her prerequisites and then transfer to Kirkwood Community College to begin the Occupational Therapy program. Good Luck, Evelyn!
Michael Ramos is the son of Jerald and Nina Solomon. After high school, Michael is keeping his options open as he wants to explore interests before he chooses a career. MIchael says that Mr. Marshall is a teacher who made an impact on his high school career because he always helped him understand his work and guided him through his high school years. Michael offers encouragement to the underclassmen saying, "Always try your best even when you think you can't do it you can do it!!" Good Luck, Michael!
Here are the Tribe Pride winners for the week of May 2: R. Anderson, R. Ealey, E. Foster, A. Harding, S. Hoag, A, King, H. King, K. Perez, T. Timmerman, C. Wehmeyer, B. Wexell, and E. Williams. Staff winner is Miss Bailey Lanz. Congratulations!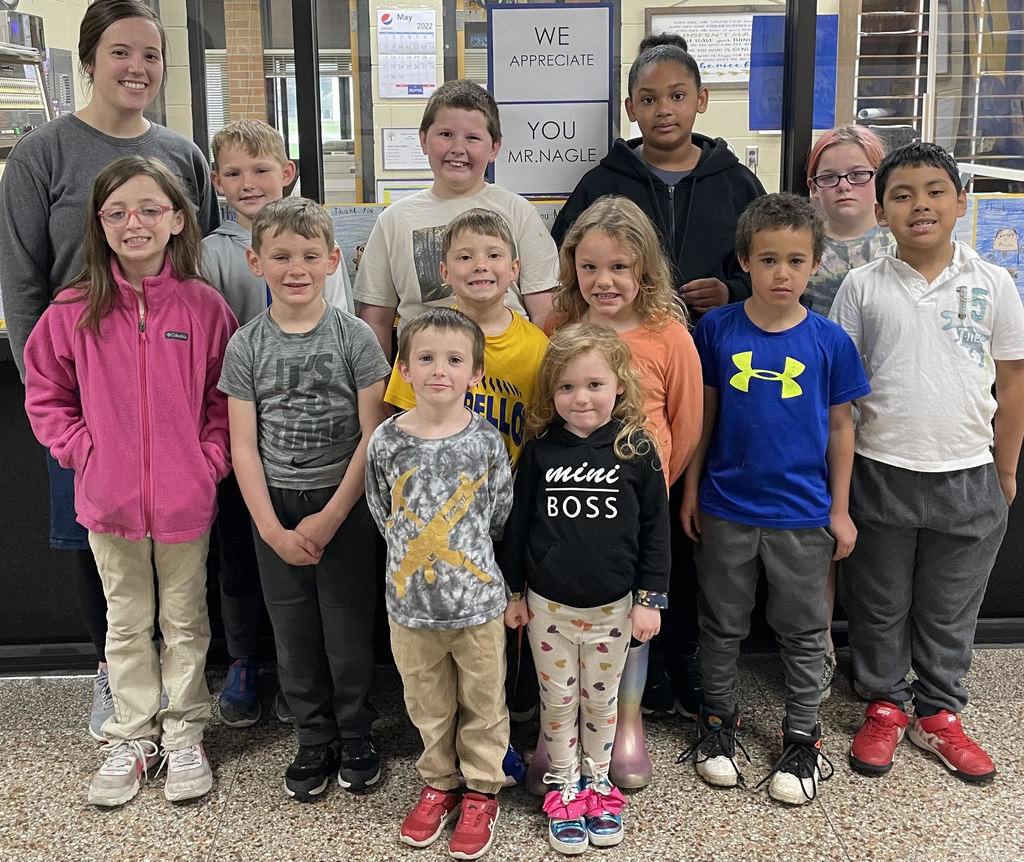 What advice does the senior class and Student Body president have for the underclassmen? Elijah Belzer says, "Have fun in high school, don't be afraid to try new things. There's always time to have fun and enjoy yourself but get your work done first you hooligans." Elijah certainly has tried several new things in high school. He has participated in football, wrestling, track, band (marching, jazz, pep), choir (Wapetonics), soccer, and National Honor Society. Elijah has also participated in FCA and has been a Huddle leader for three years. Elijah is the son of Nathan and Rebecca Belzer. After high school, Elijah plans to attend Central College where he will continue to wrestle and major in Business Administration and Finance Elijah says that Brett Shafer has been one of the most influential people in his high school career, saying, "He was the one that introduced me to wrestling. He has invested time and effort into me since I was in 8th grade. I know if I ever have a question or need help with something I know I can go to him. He's a bit of an orange but he's a great guy and I'm thankful for him and how he's always been there." Best of Luck, Elijah!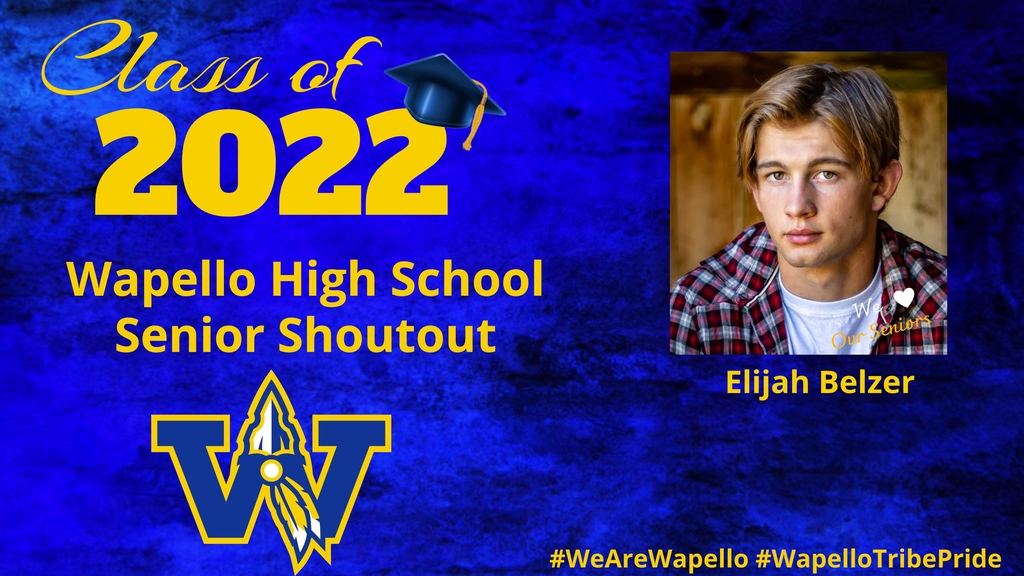 Our HS Athletes are looking to make a final push towards qualifying for the state meets, and our JH Track will compete at their conference meet. Morning marathon this week as the temps finally cooperate, and a School Board Meeting on Wednesday @ 7:00! Good Luck to all!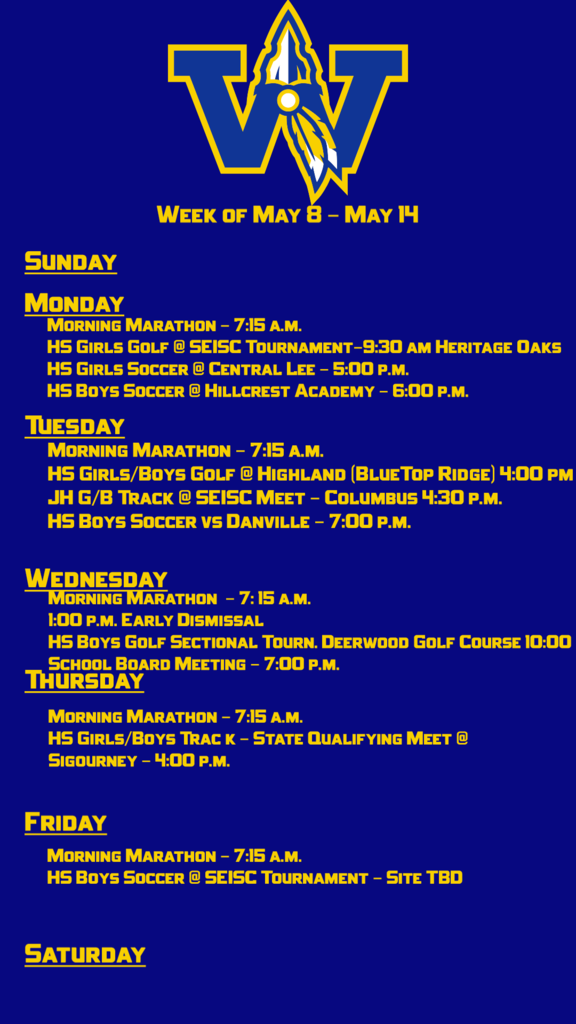 Morning Marathon May 9-13th this week 7:15-7:45. See ya there!

Congrats to the boys golf team. 2021-2022 North Division Conference Champs.

The Wapello CSD Board of Directors will meet for their regular monthly meeting at 7:00 p.m. (note the later start time) on Wednesday, May 11, 2022. The meeting will be held at the Wapello CSD Central Administration Office Board Room. The meeting will be live-streamed on the District's You Tube Channel:
https://www.youtube.com/channel/UCxEWYQlZoxeOCTdbEJZhw0w
The meeting agenda can be found at this link:
https://5il.co/19zzu
#WeAreWapello #WapelloTribePride