"Do your work." That is the advice Kolton Shepard has for students at WHS. Kolton is the son of Rusty and Teri Shepard. Mr. Dunham is the teacher who influenced Kolton the most because he taught him a lot in the shop. Kolton plans to become an electrician after graduation. Best of luck, Kolton!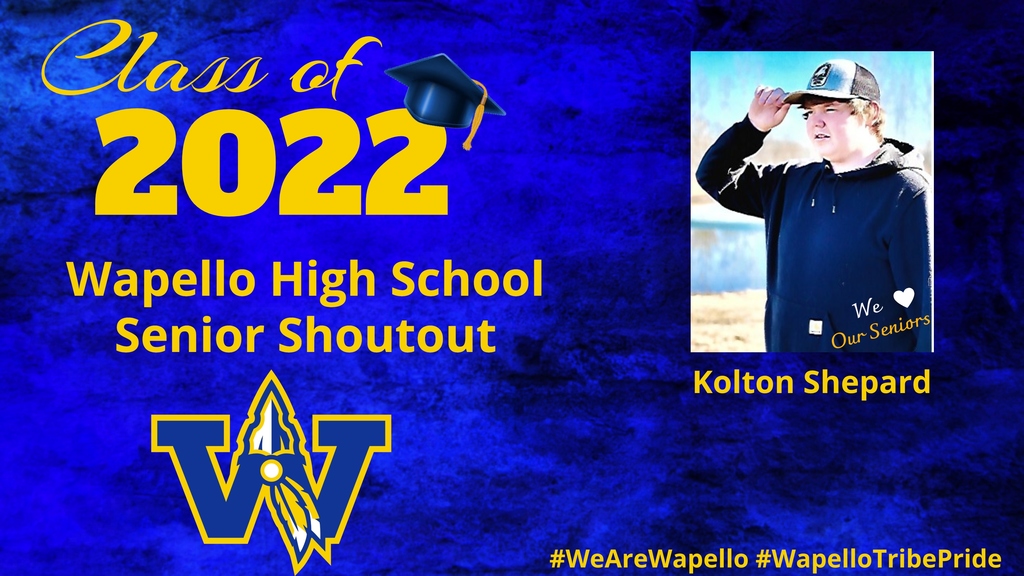 Evan King is the son of Kara Halling. Evan played baseball during his time at WHS. His future plans include the union or police force. Evan states Mr. Bohlen had the biggest impact on him during high school because, "He never gave up on me." Evan advises underclassmen to not give Mr. Bohlen a hard time and do your best. Good luck, Evan!

Just a reminder, there will be a 1:00 p.m. Early Dismissal today, May 12, 2022 due to the heat. #WeAreWapello #WapelloTribePride

The Wapello boys golf team will advance to play at Districts Monday at Pleasant Valley Golf Course in Iowa City after finishing 3rd at New London Sectional. Boys were led by Casey Short who shot a 91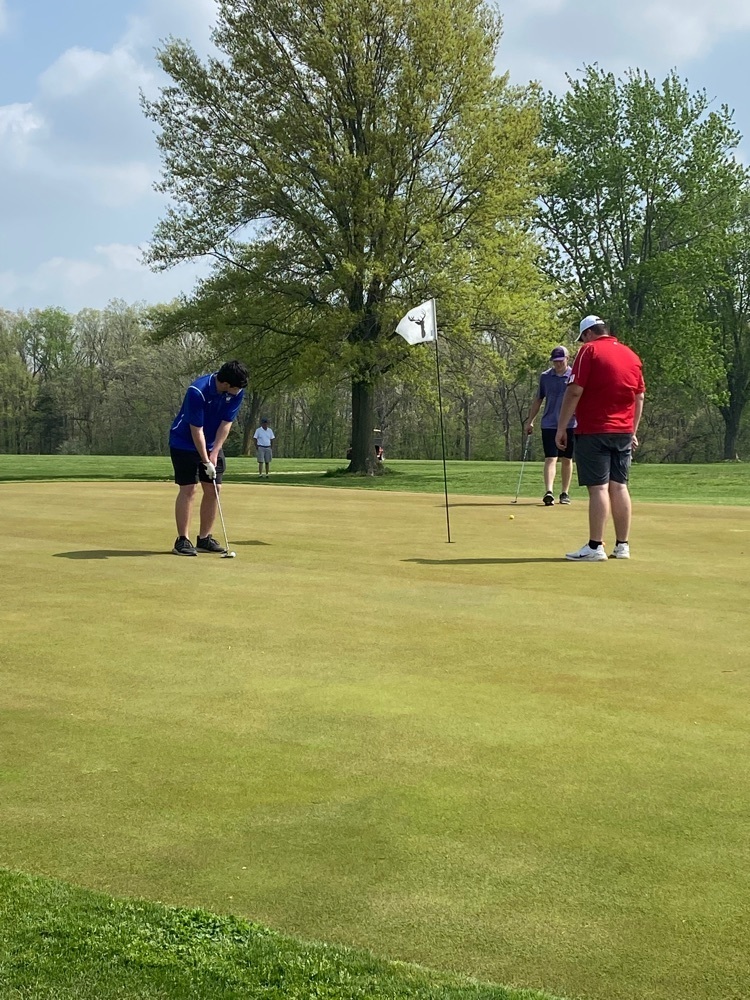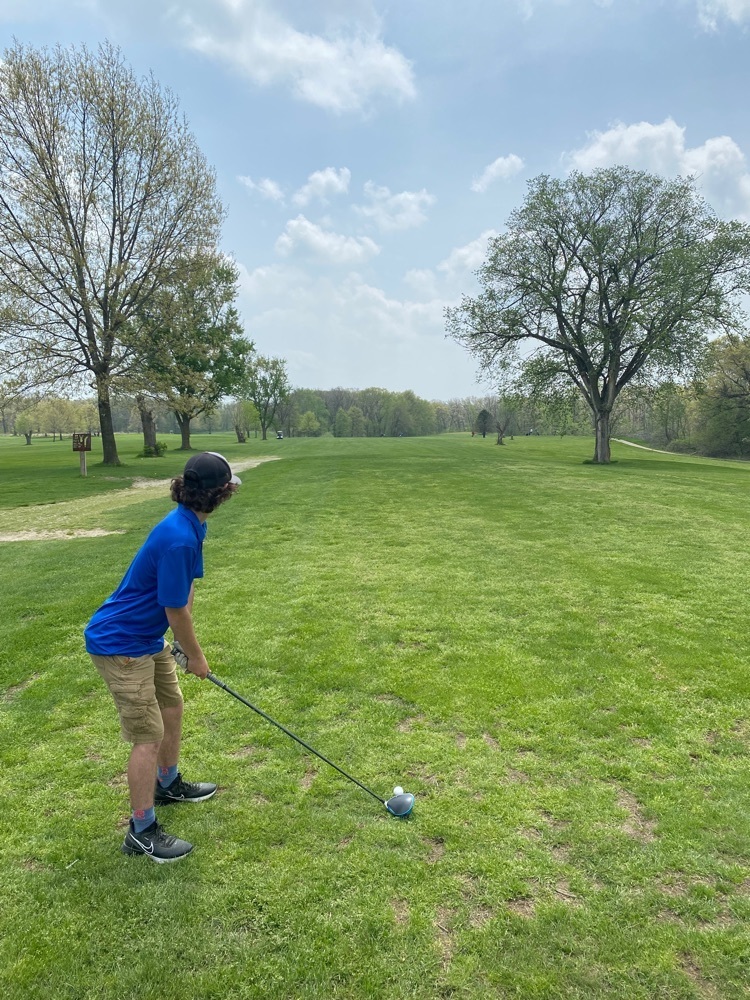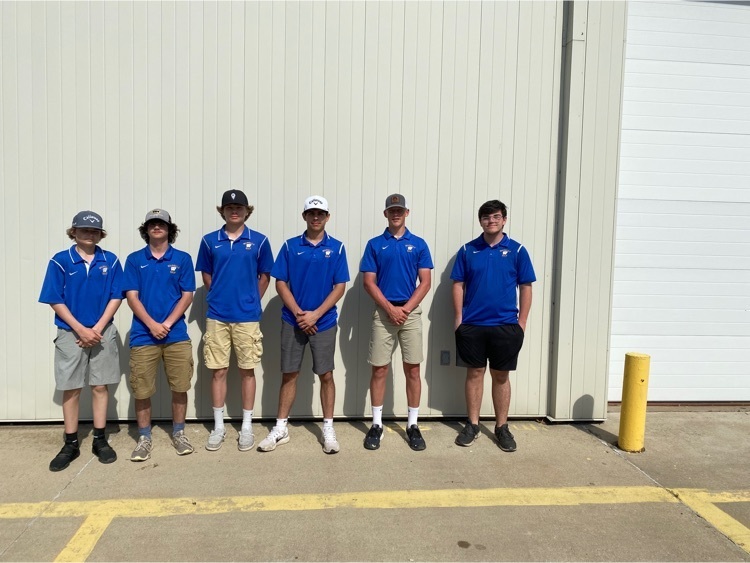 The Wapello golf teams competed against Highland and Lone Tree at Riverside Golf course yesterday with the boys winning the triangular and were led by Cooper Garrison and the girls split and were led by Bryn Wiley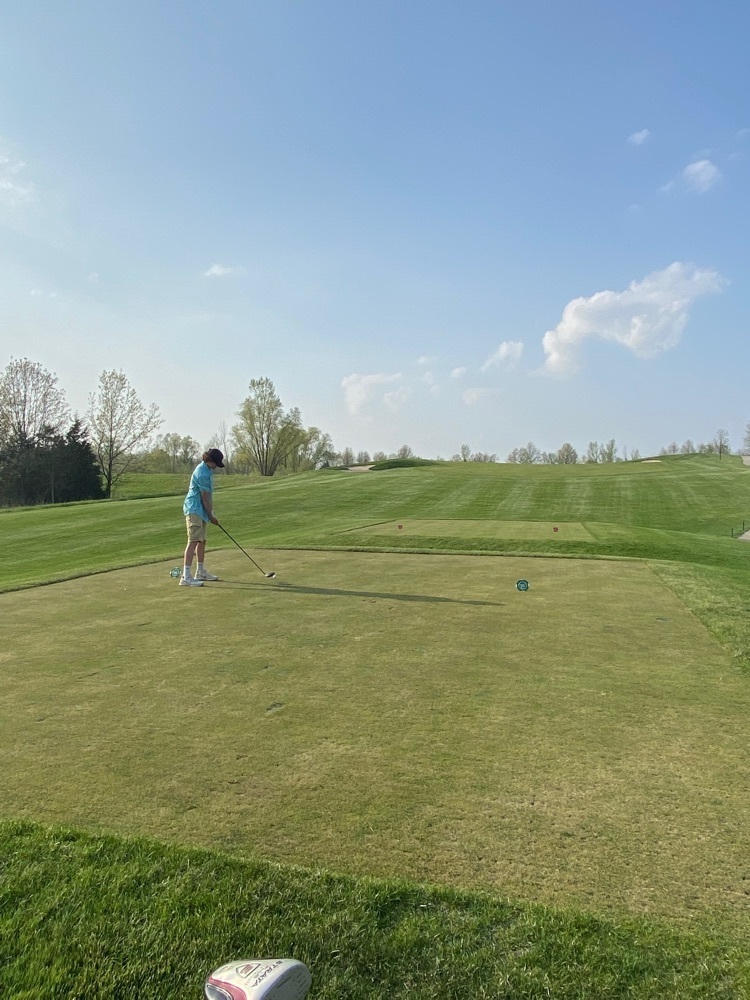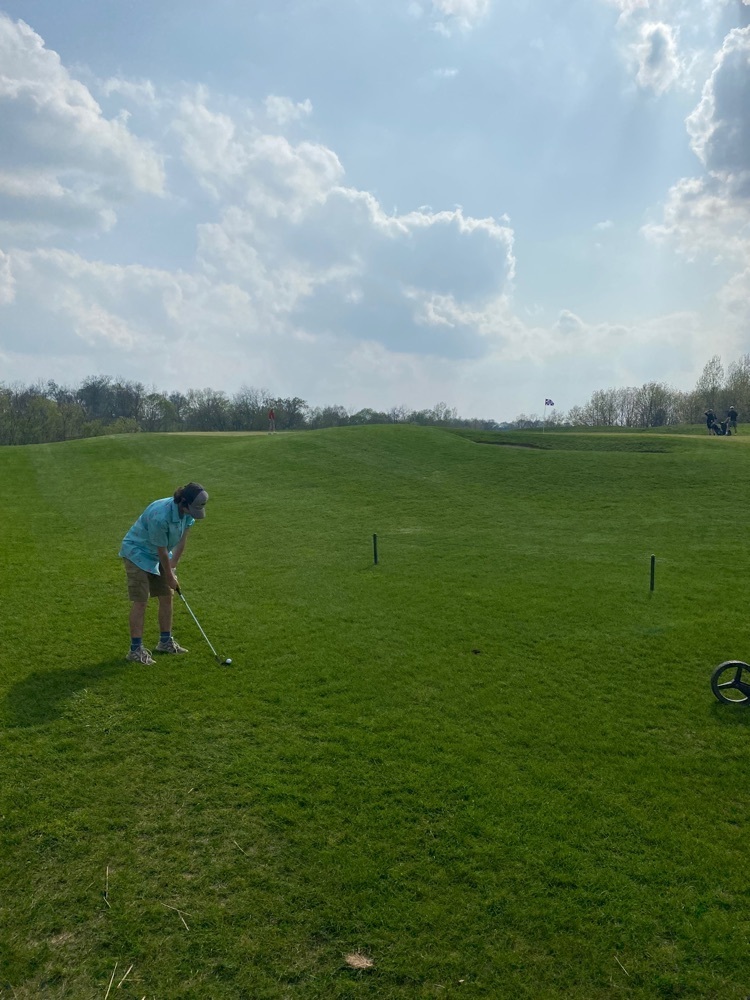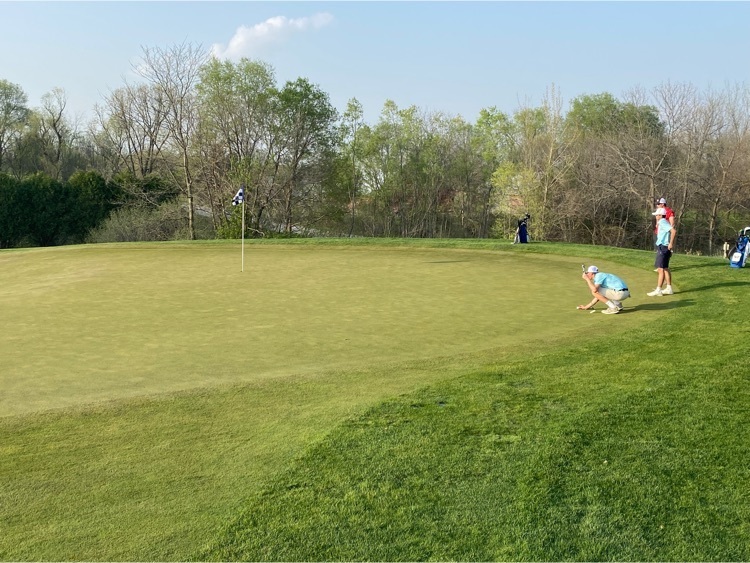 Choir, Wapetonics, drama, and student council have kept Olivia Hoffman busy the last four years at Wapello High School. A lesson she has learned and wants to pass along to the underclassmen is to "Please, Please, Please don't wait until the last minute to do homework, it will bite you in the [you know what] if you wait." Olivia says that Mr. Murray has had the biggest impact on her education. She says, "When he would talk in class he didn't sugar coat anything, I really appreciated that because that meant he saw us as young adults and not children. But also because he gave me the ability to 50 words per minute with his very long and gruesome slideshows." Olivia is the daughter of Jerred Hoffman & Laresa Carpenter. After graduation, she plans to explore her options in the workforce to find something she is passionate about and pursue her education after she finds it. Best wishes, Olivia!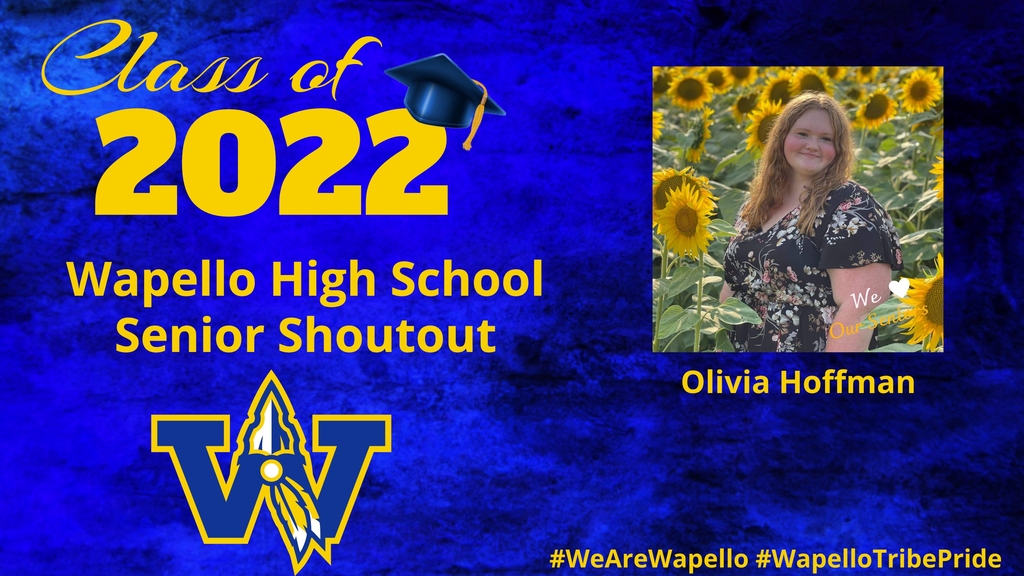 Wapello will have a two hour early dismissal tomorrow, Thursday, May 12 due to the excessive heat.
The Wapello CSD food pantry will be open Thursday, May 12th. IF there is an early out due to heat the hours will be 1:30 - 3:00. Otherwise the hours will be our regular hours from 3:45 - 5:00.
Favorite teacher? Senior Ashlyn McKenzie says, "Every single teacher of mine has taught me valuable life lessons that I am beyond thankful for. If I did not have any of my teachers I would probably have even less common sense." Ashlyn is the daughter of Scott McKenzie and Alicia White. Throughout her high school career, Ashlyn has been a member of the football, softball, cross-country, basketball, and track teams. She is also a member of the choir (Wapetonics), student council, and FFA. Her advice for underclassmen is "School is difficult but being positive helps you focus on what is important for you and your future as well as keep you in a good mood." After graduation, Ashlyn plans to enlist in the Marine Corps. She also plans to attend and join the track team at Southeastern Community College for two years. Ultimately, she plans to attend Iowa State University or Colorado State University. Best of luck, Ashlyn!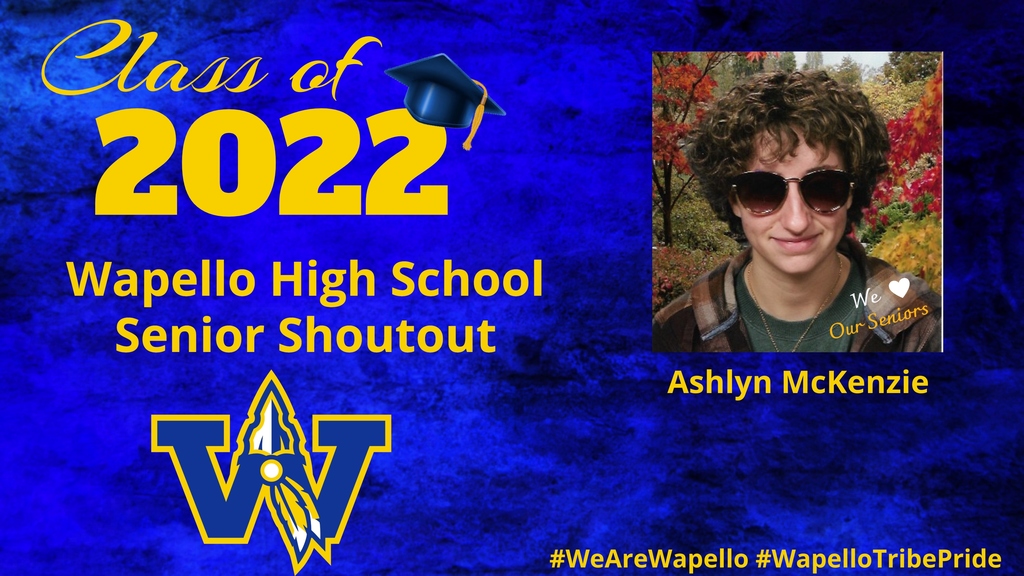 The Wapello Jr/Sr High Daily Announcements for Wednesday, May 11, 2022 have been posted to our website and mobile app. They can be found in the documents folder, or by clicking on this direct link:
https://5il.co/19sv8
#WeAreWapello #WapelloTribePride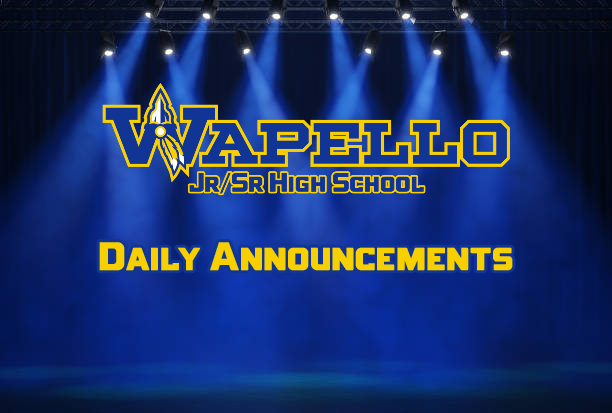 Soccer For Success Camp is coming to Wapello Elementary this summer! The camp will be held from June 6 to June 17. The deadline to register is May 23. Additional details are provided on the photo below. Contact Abby Boysen with Iowa State University Extension with questions by emailing her at
aboysen@iastate.edu
#WeAreWapello #WapelloTribePride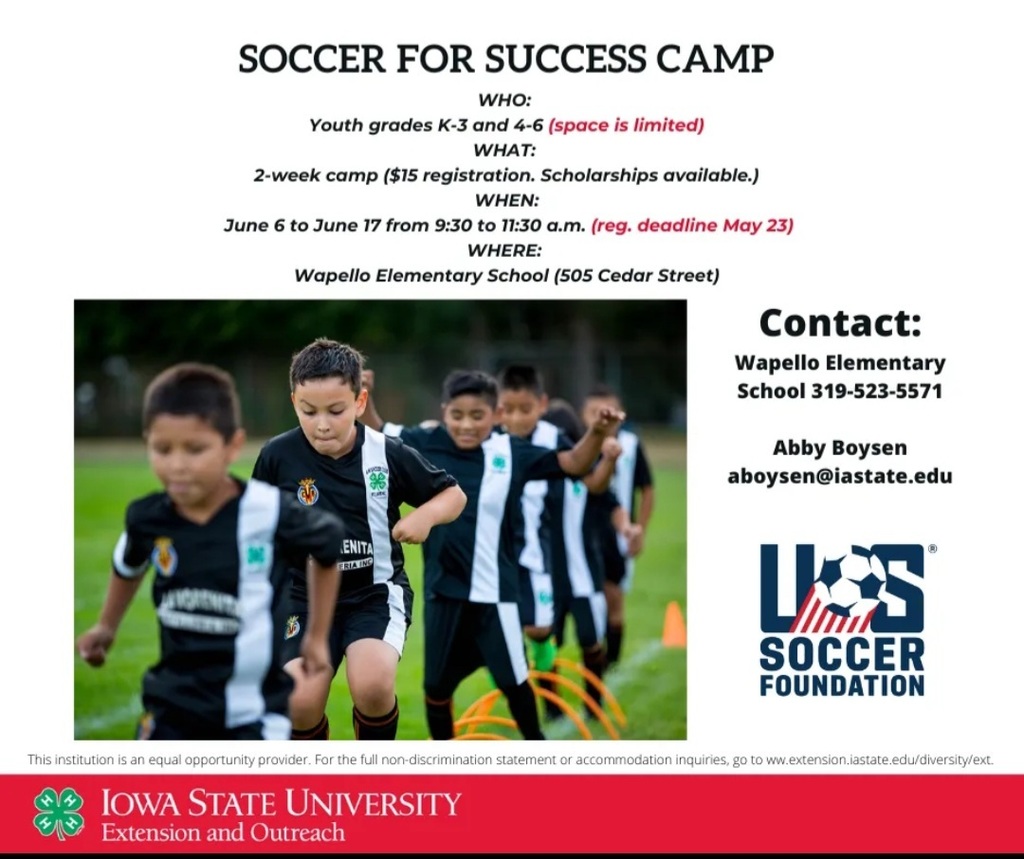 Wapello Indians Soccer will face off against Columbus on May 13th at Mediapolis as part of the SEISC Soccer Tournament. Start time is 5:00 pm. To see all the bracket check out
https://tinyurl.com/y2llmm5y
.

Results from the JH SEISC North Division boys track meet.

Results from the Girls Junior High SEISC North Division Conference Meet.
Cameron Hake is the son of Bill and Jessica Hake. Throughout high school, Cameron has been a member of the football and track teams. Cameron says Ms. Eakins has made an impact on his life because she always helped him with homework. He also advises the underclassmen to pass their classes the first time; it makes things easier! After high school, he plans to attend Southeastern Community College to run track and begin his education to become a DNR officer. Good Luck, Cameron!

Just a reminder, today there will be a 1:00 early dismissal today for staff professional development. #WeAreWapello #WapelloTribePride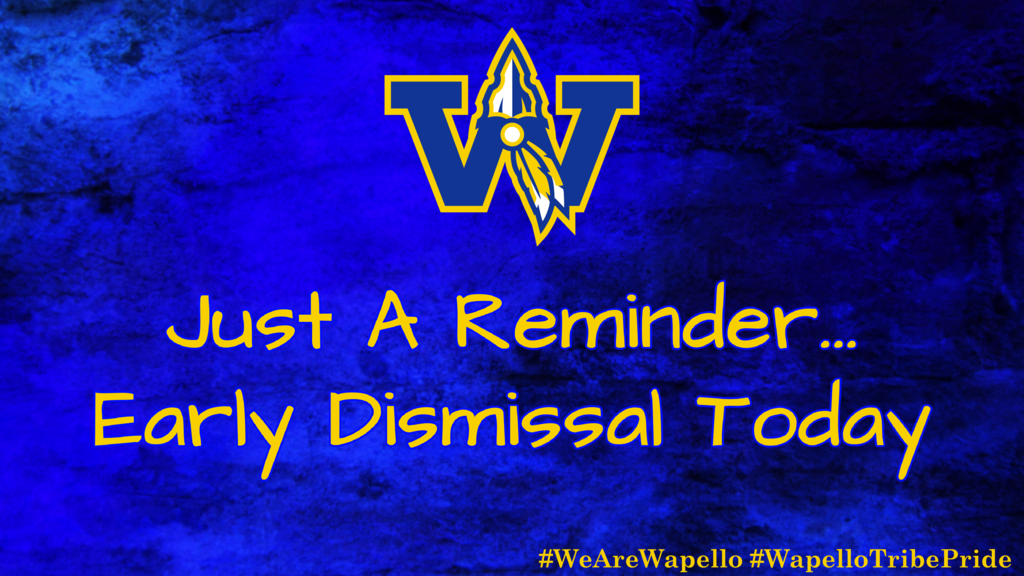 The Wapello FFA will be opening up their greenhouse for their annual plant sale. Hours for this week (May 9-14) are as follows: Thursday 5/12, 1:00 p.m. - 6:00 p.m.; Friday 5/13, 1:00 p.m. - 6:00 p.m.; and Saturday 5/14 9:00 a.m. - 11:00 a.m. Hours for next week will be posted at a later date. #WeAreWapello #WapelloTribePride

There have been some revisions to the agenda for Wednesday evening's school board meeting. A revised agenda can be found at this link:
https://5il.co/19zzu
Any changes to the agenda are highlighted in yellow. #WeAreWapello #WapelloTribePride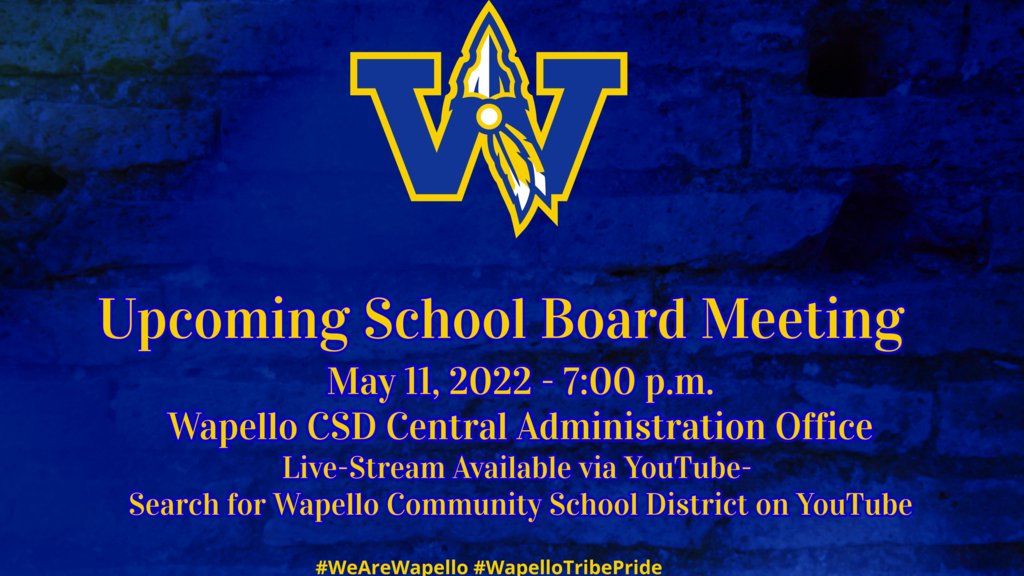 "Be involved and try as many activities as possible; you never know what you'll end up liking." Words Emma Schoonover followed during her high school years at WHS. Emma was involved in several activities in high school, including pom squad, band, track, soccer, cross country, and football cheerleading. Emma has also been involved in dance for ten years. She was a member of FCA, National Honor Society, FFA, and student council. Mrs. Spielbauer is Emma's most influential teacher because, "She took into account how we wanted to learn in her class. She was always curious about our lives and how we are doing. I always asked a lot of questions and she would always take the time to fully explain how something worked." Emma's parents are Curt and MIranda Schoonover. Emma plans to attend St. Ambrose University to major in biology/pre-med and minor in psychology. Best wishes, Emma!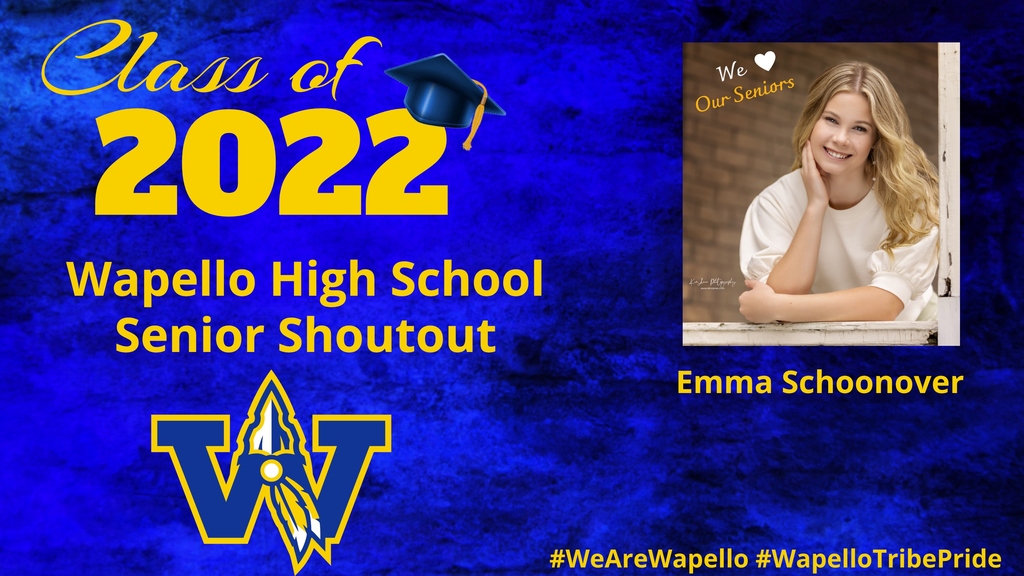 The Indians Soccer team returns home tonight to square off with the Danville Bears. Come out and cheer on the Indians on a beautiful night for soccer at the Carl "Mac" McGill Athletic Complex at 7:00 p.m. #WeAreWapello #WapelloTribePride